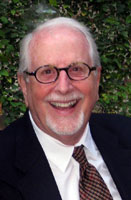 At The Inside Tract®, it has always been our goal to keep changes to a minimum. We strive to make the program easy to learn and simple to use. We never make modifications unless there is a compelling reason to do so. That said, we have discovered that many of our subscribers have not been taking advantage of our powerful buyers tools.
We have now rearranged the search boxes to make the Advanced Search features easier to find. The Advance Search is a key tool to find a comparable plan and locate that home or development for your buyer. We have had these tools all along, but they were tucked in a spot that was not always noticeable.
SEARCHES
The new start page (below left) is broken into two sections: Specific and General Searches. When you start your search and type in a city then hit GO, it will bring up the new form on the right. As you can see, there are two links: "Comp Tracts Search" and "Comp Models Search". When you click on either of these buttons, you'll find almost 50 new ways to further refine what you're looking for.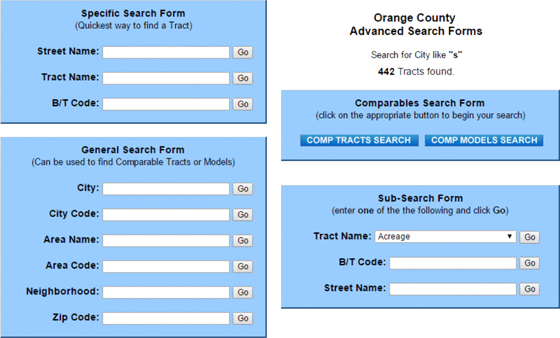 EXPANDED SEARCHES
Behind the scene there are other changes that will expand and improve your search capabilities. For example, now when you type into the city field the letter "S", you will find the program will retrieve not just one city, but it will show you San Clemente, San Juan Capistrano, Santa Ana and Stanton. Next you may further refine the sub-search for more data. For example, I chose 55+ communities and 9 appeared. We have almost 50 sub-search fields that may be checked.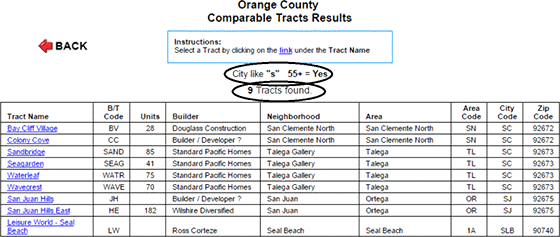 THE VIDEOS ARE EASY TO FIND
They are right on our home page.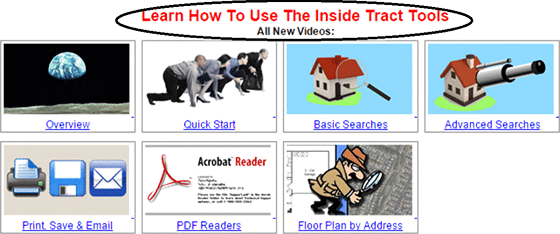 AERIALS ARE BEING ADDED

You will notice that every day we add a few more aerial buttons to our program. These links allow you to view the projects as an aerial photo or map. You must be logged in to see this feature. When you get to your project look for the link Aerial-Tract. It's one more element we are adding to make things easier for you.
DAILY BLOG POSTS
We post a new blog almost every day. Blog posts cover Tract additions and changes to the program. After the BLOG we also post to Twitter and to LinkedIn. You will find the links to these apps at the top right hand corner of our home page.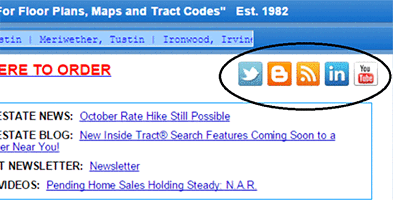 WE WANT YOUR OLD BROCHURES
We always welcome donations of old sales brochures. In the last year, we have received more than 35 banker's boxes of development information. It's a time consuming process, but we cull through this information, looking for projects that we didn't have. In addition to adding new codes, we are finding information that goes back to the 1950's and 60's. We add the new codes and information as fast as possible, but it is time consuming.
I am approaching the end of my 33rd year of coding Tracts. There isn't a day that goes by, when I don't look forward to going to work. Thank you to our nice subscribers for making that possible.
Thanks for reading,