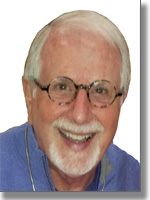 As we turn the last page of the 2013 calendar and zoom into the New Year, I want to thank you for using The Inside Tract® - Floor Plans, Maps & Tract Codes.
We are now into our third decade and are fortunate that we have many subscribers who have been with us well over 30 years. Two longtime appraisers have just hung up their hats and now join the ranks of retirement. They are the husband and wife team of Monica Moore and David Fish. Dave and I became acquainted before I started this business back when I had a real estate office in Corona Del Mar. Dave, myself and several of our agents would discuss the market conditions and other concerns over lunch. By analyzing trends and issues, we were able to help each other. Agents and Appraisers certainly need to work closely together. We are fortunate to have had Fish and Moore help us spread the word about our service to hundreds of other professionals. While we will miss them, we wish them well in this next chapter of their lives.
ECONOMY - Every time I turn on the news someone has a new opinion or comment about the economy. A lot of it makes good sense and I admire those who can assemble the statistics; I am not one of them. What I do keep an eye on is the development segment in our four county areas of interest. They have certainly started to build again. When they build, it takes a lot of money and I like to compare it to a big ship in motion. It's not easy to change course in a moment's notice. Long range planning is the key. Land acquisition, permits, financing, construction takes time and capital. There are many projects in the works. That gives me a feeling that lenders and builders believe 2014 will be good for our industry, and that works for me.
NEW PAGES ARE BEING ADDED TO EXISTING PROJECTS IN OUR PROGRAM - We continue to add information to our service. As we work to completely digitize our files (dozens and dozens of boxes and file drawers full of brochures) we are adding new pages to the existing Tracts. If you printed a report or saved it a year or so ago, you may want to revisit those projects from time to time to make sure that you have everything.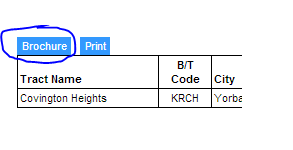 NEW PROGRAM FEATURE - Until we can get all of the plans and supporting documents for newer Tracts added, we have created a short cut feature we term the "whole brochure button". It's now on just a few projects but will grow in the next couple of months. When you see this button (see below) it will be marked BROCHURE. Click it, and you will get one PDF document of all of the information on the project. You may then print or save it.

NEW TRACTS - We now have information on the new Pavilion Park in the former El Toro Airbase, new projects in Rancho Mission Viejo and Irvine. The Marblehead project of 195.5 acres in San Clemente is back in the news. It's slated for 308 Residential homes and the whole parcel is coming up for sale. There are many Orange County Builders interested. In Newport Beach, construction is proceeding on the five-building condo project called Meridian. The project is being built in Fashion Island next to The Marriott Hotel. In addition to these new projects, we keep acquiring brochures on older projects from the 1970's through the end of the century. If you have old sales brochures and would be interested in donating them rather than throwing them away, please contact us.

BONUS FEATURE - As part of our service, if you can't find the information on a project, especially a newer one built in the last 10 years, use the Ask Dean Tab on the home page of the log in page to request it. Tell us what you're looking for. We would like the project name and the master community (when applicable) as well as the full address. These requests are always treated in a confidential manner. If we have information on the project, we will Email it to you and take a credit. If we don't have anything yet, we will let you know. Often times, even though we may not have any data, we can learn about the project and assign a new Builder Tract code for it.

In closing we wish you a prosperous year in 2014 and again we thank you for using our service.

Sincerely,