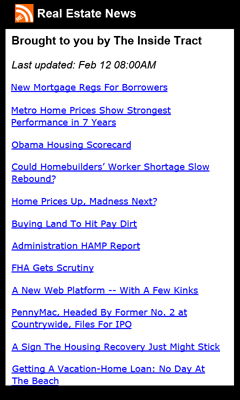 The Inside Tract Releases Its First Mobile App
One of our most popular online features is our RSS News feed and in our January Newsletter we talked about how you might use some of these articles in your website, Facebook, Twitter or blogs.
We are pleased to announce that we are now offering a free Android app that is able to read our Real Estate News feed. The app extracts the articles from the feed and displays the headlines in chronological order. When you click on a headline the app will display the related article.
Install this app and you can quickley scan the most recent real estate headlines with your Android mobile device.
To install the "Real Estate News" app on your Android device, here are the steps:
Login to your account at Google Play.
Enter "Real Estate News" in the search box at the top of the screen.
Click the "SHOP" button (top left) and select "Shop Android Apps" from the drop-down list.
When the list appears, scroll down until you see, "Real Estate News" and then click the "INSTALL" button next to this "app."
The "Real Estate News" app is particularly useful for real esate professionals or anyone interested in buying or selling a home.