January, 2013

---
What's New
Using News To Attract New Clients

By all accounts, the real estate market across the nation is improving. Prices and sales are going up despite (or because of) a shortage of listings. Nevertheless, real estate agents are still struggling. According to a recent report, which we covered in our RE News Feed, 4 out of 10 California real estate licensees dropped their licenses in the last 5 years. Those that remain will still have to struggle to make ends meet. It may not be enough to knock on doors or hand out flyers. Agents will have to become more creative in developing ways to contact prospective clients. Websites and social media will play an important part in this new paradigm.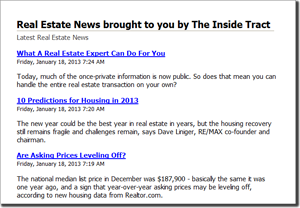 We at The Inside Tract offer a number of tools that cleaver agents can employ in their flyers, web sites and social media. One simple and FREE resource is our daily RE News Feed. With a quick glance, you can scan the headlines until you find an article that would be just perfect for your website, Facebook, Twitter or blog.
An RSS News Feed requires an RSS News Reader. Both Firefox and Safari come with RSS News Readers. There are also many other RSS News Readers you can download and install for free. Simply search for RSS News Readers.
Tips 'n' Tricks
Updating Your Online Account

It doesn't happen often but when you get married or move, you may find that you will have to update a whole lot of your personal information. As an online Premium Member of The Inside Tract, we try to make it easy for you. You can update all the info we have on you including your Name, Email Address or Password. After you Login, click on the button that reads, "My Account." You will see a summary of your information with 2 buttons below. Simply click on the button that reads, "Edit My Info" to update your profile or click on the button that reads, "Change My Password" to change your password.
Remember, if you re-order under a different name or email address than we have on record, you run the risk of losing your remaining balance.
Featured Tract
Newport Landing
We have updated information for Newport Landing in Costa Mesa and added some new Floor Plans. Newport Landing in an 88 Unit Condo project was built in one phase. It's amenities includes two community pools and 2 spas. It is located in Central Costa Mesa on Vanguard Way in the College Park Area. Newport Landing has 6 different models that range in size from1080 sq. ft. to 1549 sq. ft. The Costa Mesa Civic Center Complex adjoins the project to the North. Vanguard University, Costa Mesa Civic center, Pacific Amphitheater and the Orange County Fair Ground are just a few blocks further North of the project. For Premium Members, we have also added a new Aerial Tract Map.

We respect your privacy. We do not share any of your information with any other entity. To be removed from this mailing list, reply to this message with the word "Remove" in the subject line.