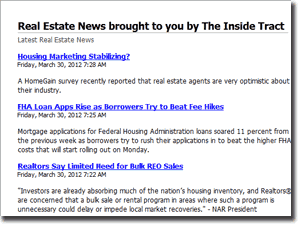 Good News!
We are beginning to see more positive than negative stories in the news:
Also, we have been getting an increase in desperate last minute phone calls from Realtors who need a Floor Plan immediately! This, too, is a sign that the real estate market is improving. A word to to wise: Don't wait. Order your Premium Reports now!
You can follow all the latest news stories by subscribing to the exclusive Inside Tract News Feed at http://www.insidetract.com/re_news.xml - it's Free!
Can't remember your Inside Tract password? Why not change it to something you can remember. Login to Members - click on the blue My Account button under the title - and click on the blue Change My Password button at the bottom of the page.