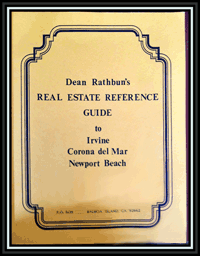 We're Celebrating - it's the start of our 30th year!
The old cliche is "my how time flies" but in 1982 some days went very slowly. It took one whole year using a Kroy Machine and an Apple II Plus computer to publish the various Tract names for our first guide. We only had 146 projects in it for the two cities.
To go back even further, in the 1960's I moved to Mission Viejo. My first plan was a Sorrento model in the Eldorado Tract. The 405 Freeway hadn't opened up yet and there were 4620 people in the community. Over the next forty some years, I bought and sold many homes in Orange County and because of the marketing efforts of the builders and the master planning. I can still remember each one of my homes. Your clients remember their Tracts too, just like I do. But, rest assured, with our information, we can bring confidence to you and make you look pretty darn good in their eyes.
Don Bren, in my opinion, is and will always remain the most innovative real estate icon this area has ever seen. He began as an owner of The Mission Viejo Company and continues his journey as the owner of The Irvine Company. The unique thing about Orange County was the large land holdings which afforded keen early master planning in cities like Mission Viejo, Laguna Niguel and Irvine. Mr. Bren currently has a twenty year plan for the Irvine property.
In 1978 I entered into an agreement to buy a real estate Office in Corona Del Mar that had about 80 Agents at the time. The office was sold and eventually became the Prudential California Office in Newport Beach. That was more than 30 years ago. Having hired many brand new Agents, I quickly realized that they had to learn the names of the developments located in Newport, Costa Mesa and Irvine or they would lose out to a more informed competitor. The "old timers" in the office knew the Tracts by name and knew the idiosyncrasies of them as well. The newcomers needed to come up to speed and do it fast to insure a competitive edge!
Our first little Reference Guide was made with these new Agents in mind. It contained the Tract names and Codes for Irvine and Newport Beach and sold for $19.95. Each development needed a unique identifier so the MLS computers could track the project. Hence the term "Builder Tract Code" or B/T was born. Each development was assigned a unique code and each model was listed. We had eight different Associations of REALTORS® and each had their own MLS committee. With help from many sources and 30 years' time, we have now identified almost 4,000 Tracts and that's just Orange County!
Form the early Reference Guide, the cities and information within the books expanded. When we stopped selling the 3 ring binder editions, there were 23 volumes and cost was $2,700 for the full set! Not many could afford it.
Seventeen years ago, the Internet was new to the majority of us as we migrated to the CD-ROM technology. The CD-ROM was "state of the art" at that time. It was a time and money saver for many, but there were always those who were new to computers and struggled with installation and other computer challenges.
Now everything we do is Web based. It's easier for us to update our data and you can retrieve the information anytime, anywhere. I will talk more about technology in future issues, but for now, I suggest that you start saving your money for the new iPad. The third edition resolution will shock everyone. By the way, I have never, nor do I now, own Apple stock. My loss.